Up to date calendars for local live music!
 |or
EVENTS IN AND AROUND FT LAUDERDALE
This sizzling event will pit top local restaurants and burger joints against one another as they show off their culinary creativity and grilling skills to 1200+ guests along the scenic New River. The afternoon will include a Burger Eating Contest, live music by Smokin J's Poker Night, cold beer, quality cocktails, refreshing wines and plenty [READ MORE…]
Comments Off

on Riverwalk Burger Battle™ IX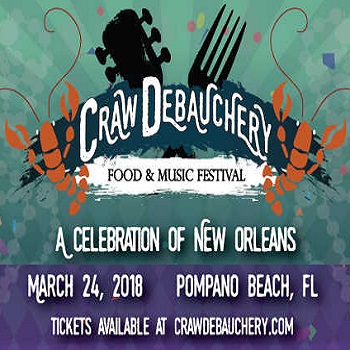 The fifth annual South Florida Crawfish Festival, presented by CrawDebauchery, will take place, one day only, Saturday, March 24, 2018 at the Pompano Beach Amphitheater Field, beginning at 11am and continuing past nightfall at 10pm.  Event founder/organizer Don Matthews said the festival will once again bring a distinct New Orleans flavor to South Florida. As [READ MORE…]
Comments Off

on Fifth Annual South Florida Crawfish Festival
On February 14th 2018, our community suffered a horrific tragedy that should not have happened & we hope will NEVER happen again! It's times like this that we all need to unite, support & "band together"!  Three branches of The School of Rock (Coral Springs, West Broward & Pompano Beach) will "band together" to raise [READ MORE…]
Comments Off

on Band Together Benefit Concert at American Rock Bar & Grill
At the start of every week, The Weekend Concierge checks out the live music calendar to see who is playing where on Friday and Saturday nights and prepares a list of ten recommended spots to catch live music around town.  The lists consists of some of the favorite local spots for watching cover bands in [READ MORE…]
Fort Lauderdale continues to prove itself as one of South Florida's top music destinations with the release of the 2018 Friday Night SoundWaves artist lineup. Filling the gap between the area's largest music festivals, Tortuga Music Festival in April and Riptide Music Festival in December, the 8-month long series brings together a community of locals and visitors [READ MORE…]
Here ye! Here ye! All ye Kings and Queens, Knights and Nobles – and the rest of you wenches and barbarians! You are hereby notified by royal proclamation that your attendance is requested at the 26th annual Florida Renaissance Festival taking place from February 10th through March 25th, from 10am till sunset in the two-thousandth [READ MORE…]
EVENTS IN PALM BEACH COUNTY
The Village Council of Wellington officially welcomes the 3rd Annual Wellington Bacon & Bourbon Fest to its new location. Thanks to our partnership with the Village of Wellington the event will offer FREE ADMISSION! Held on the grounds surrounding the new Village of Wellington Community Center and amphitheater, the free event is scheduled for March [READ MORE…]
Comments Off

on 3rd Annual Wellington Bacon & Bourbon Fest
Special thanks to all our sponsors who help support our habit of lovin' live music day after day, week after week!
Use The Bar & Restaurant Directory to discover places to go with FREE live music from Fort Lauderdale to West Palm Beach and surrounding cities.  Use one of many calendars to locate hour by hour events for your area.
---
Discover more Live Music Events, Festivals, Comedy, Open Mics, Karaoke, Happy Hours,  Food Truck Events and more from Fort Lauderdale to West Palm Beach.  Please tell all your friends and venues you visit that you found it at WeekendBroward.com or WeekendPalmBeach.com

Find out when Food Trucks will be in your neighborhood before you start cooking lunch or dinner and wish you had known! They usually bring entertainment and lots of choices of foods – some you would never expect to find coming from a truck! Please check out another Weekend Concierge website: www.FoodTrucksFortLauderdale.com