Hour by Hour Live Music Calendars
📝New! Detailed & Mobile Friendly BROWARD
Local Events in and around Fort Lauderdale
Free Our Seas and Beyond has partnered with Nova Southeastern University, Broward County, the Marine Environmental Education Center (MEEC) at the Carpenter House and the City of Hollywood to host the second annual Free Our Seas and Beyond Environmental Art Festival on Saturday, April 20th beginning at 11:00 a.m. Harnessing the power of art and community, [Read more…]
From the same founder as Renfest, comes another exciting trip to Medieval times when you visit the Fort Lauderdale Pirate Festival, taking place Saturday, April 20th on the New River in downtown Fort Lauderdale. Bobby Rodriguez, combined with the resources of Fort Lauderdale Rotary Club, The City of Fort Lauderdale, Riverwalk Fort Lauderdale, and Yellow [Read more…]
The Weekend Concierge strives to find great venues that support live music in the North, Central and South ends of Broward County.  This list is not a tell-all but rather a handy chart, presented in alphabetical order by city so no preference is given over the first versus last venue listed.  In addition to the names of the [Read more…]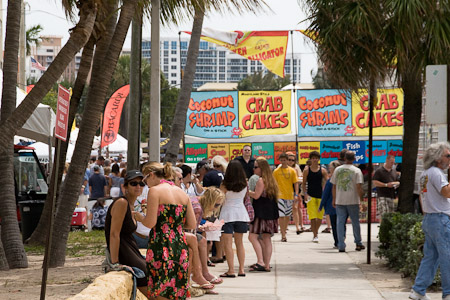 After 34 years of calling the sands of Pompano Beach home, the 35th Annual Pompano Beach Seafood Festival will be moving to a new home at the Pompano Beach Community Park & Amphitheater, for the 2019 season beginning Friday, April 26 and continuing daily until Sunday April 28. In addition to fresh local seafood grilled [Read more…]
Local Events from Boca Raton to West Palm Beach
Join Little Smiles of Florida for a night of true Louisiana-style food, music, and fun at The Cajun Crawfish & Music Festival, Saturday, April 20, 2019, from Noon till 9pm at Downtown at the Gardens.  Celebrate the day with Virginia from The KVJ Show and enjoy authentic Cajun food featuring a crawfish boil, jambalaya, gumbo, [Read more…]
Celebrate the 50th year of Abbey Road at the International Beatles On The Beach Festival™ beginning Thursday, April 25 and running daily to Sunday, April 28, 2019. Four Fab Days of Sun, Fun, Love and Music kicking off Thursday as the city of Delray Beach shuts down 2nd Ave with "Pineapple Grove Forever" paying tribute [Read more…]
Kicking off the Summer Concert Series, Mizner Park Amphitheater and The City of Boca Raton will host a Battle of the Bands on Friday June 7, 2019.  There will be two $1,500 cash grand prizes for each category: Teen competition and a 20+ competition.  Doors will open at 6pm and the battle is set to [Read more…]
Family Friendly Food Truck Events
The Big Swing at ArtsPark in Hollywood (April 20)

Tribute Concerts every Thursday & Saturday at Wellington Amphitheater
Find out when Food Trucks will be in your neighborhood before you start cooking lunch or dinner and wish you had known! They usually bring entertainment and lots of choices of foods – some you would never expect to find coming from a truck!
Special thanks to all our sponsors who help support our habit of lovin' live music day after day, week after week!
Use The Bar & Restaurant Directory to discover places to go with FREE live music from Fort Lauderdale to West Palm Beach and surrounding cities.  Use one of many calendars to locate hour by hour events for your area.
Discover more Live Music Events, Festivals, Comedy, Open Mics, Karaoke, Happy Hours,  Food Truck Events and more from Fort Lauderdale to West Palm Beach.  Like what you see?  Sign up for weekly emails, tell all your friends, and make a donation to further support the website that supports live local music in south Florida!