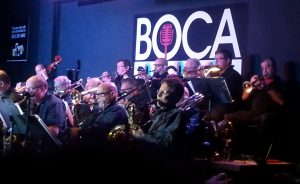 Dennis Noday and Lee Harris created this orchestra to do something just a little different than what has gone before, and this new 18-piece jazz orchestra in the Kenton tradition is generating some real excitement from the local jazz community.
The players are the absolute top-drawer jazz talent in the South Florida area, but what's truly unique about this orchestra is our library of original arrangements, written by myself over the course of the past fifty years. There are many original compositions, but there are also new arrangements of some of the wonderful standards from the "Great American Songbook". Unlike every other band in town, we play absolutely NO purchased commercially available big-band music.
Make no mistake: this is a New Orchestra, with a New Sound!
The musicians love the book, and audience reaction to the music at the Black Box was marvelous! Dennis has also contributed some music from his amazing tenures with the Stan Kenton and Maynard Ferguson bands, and he still has a large following in the South Florida jazz community, having led his own big-band down here for years. This creates a nice 'balance' of the 'new' with the 'old'!
Send Message to listing owner