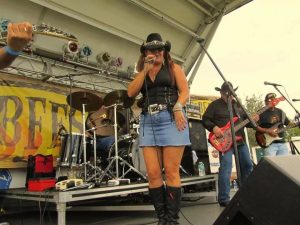 South Florida's Premier Classic Rock Band
Payback Band is a long established local band playing all the popular nightspots in and around Broward County. We are a four piece band plus a dynamic female vocalist who can Rock the house or do popular Country with equal appeal.
Sample Set:
It's 5 o clock Somewhere
I Feel the Earth Move
Don't Rock the Jukebox
Black Magic Wam
Rocky Mountain Way
Southbound
Brown Sugar
Your Mama Don't Dance
Come to My Window
Stop Dragging My Heart Around
Get Ready
Soul Man
The Best in Country Music
The Jamie Mitchell Band is unique beginning with Jamie Mitchell's style in singing . Jamie has a unique voice, and is up there with "The Greats in Country Singers". These guys are a "great country band" but we can rock the place too!
Red Neck Girl
Walk Softly
Take These Chains
Tulsa Time
Boot Scootin Boogie
Liza Jane
Got No Reason Now
Come Monday
Lonely Ladies
Forever and Ever Amen
Amirillo by Morning
Kiss Tomorrow Goodbye
Who's Your Daddy
Neon Moon
Rocky Top
Good Tiime
Mama Tried
Folson Prison
Forever and Ever Amen
King of the Road
Bible Belt
T R O U B L E
The Dance
Should a been a Cowboy
Hog Heaven
Friends in Low Places
Rhinestone Cowboy
The Breeze
Sweet Caroline
Rocky Top
Working Man Blues
Sick and Tired
On the Road Again
Much Too Young
Diggin Up Bones
Trashy Women
Papa Loves Mama
If Tomorrow Ever Comes
No Shirt, No Shoes, No Problem
Don't Close Your Eyes
I LOVE THIS BAR
Margerittaville
King of the Road
Three Wooden Crosses
...AND MANY OTHERS
Chad Gregory is a singer, songwriter, musician currently based in Palm Beach County Florida.. performing anything from his acoustic heartfelt originals, to putting his own southern spin on anything from Bob Marley to Bob Dylan. Chad introduces instrumentation such as piano, violin, mandolin, harmonica, melodica, saxophone, trombone, trumpet... depending on the night of the week, you never know what tasty players might show up to play along.
T.J. Cronin is an up and coming country recording artist based of out Ft. Lauderdale Florida.  This 4 piece band covers all of the biggest country radio hits from Jason Aldean, Luke Bryan, Florida Georgia Line, and Blake Shelton.
Examples of songs covered:
Take A Little Ride by Jason Aldean
Drunk On You by Luke Bryan
Anywhere With You by Jake Owen
Drink In My Hand by Eric Church
My Kinda Party by Jason Aldean
Kiss Tomorrow Goodbye by Luke Bryan
Cruise by Florida Georgia Line
Bottoms Up by Brantley Gilbert
Runnin' Outta Moonlight by Randy Houser
Hard To Love by Lee Brice
Who Are You When I'm Not Looking by Blake Shelton
The One That Got Away by Jason Aldean
Round Here by Florida Georgia Line
Yeah by Joe Nichols
Whisky Six is a modern country band that plays everything from soft ballads to toe tapping rocking country.
Sample Set List:
When She Says Baby
5150
Getting You Home
I'm Gonna Miss Her
Barefoot Blue Jean Night
Folsom Prison Blues
All My Friends Say
Friends in Low Places
Make Me Wanna
Chicken Fried
Gone
Aw Naw
That's My Kinda Night
County Girl
Knee Deep
My Kinda Party
The Fireman
Am I The Only One
Boy's Round Here
I Think She Loves Me
Seminole Wind
Keep Your Hands To Yourself
Drink In My Hand
Beer For My Horses
Brokenheartsville
Toes
The Ride
Kiss Tomorrow Goodbye
Fast As You
Take A Little Ride
Anywhere With You
What Was I Thinkin
Drink To That All Night
8 Second Ride
Cruise
Song About A Girl
Wagon Wheel
Mind Your Own Business
Good Directions
Up All Night
She's Country
Parking Lot Party
All Summer Long
Palm Beach's premier Country/Rock Band!
We mix it up with a little bit of country and a little bit of rock-n-roll.
Sample set list:
Country girl shake it for me.
Boys Round Here
Whiskey in my water
Bottoms Up
Copperhead Road
Night Train
All about the South
Mary Janes Last Dance
Everlong
Jenny Jenny
Dirty White Boy
Under Pressure