Two trains carrying Four musicians were traveling in opposite direction, one a Classic Rock Band and the other a Country Band. When they collided the final result was a band called Rough Shot!

Meet ROUGH SHOT, a four piece driving Country/Southern Rock/ Classic Rock/Modern Rock/Blues Rock band out of Broward County, Florida. ROUGH SHOT plays a diverse selection of todays modern country covering hits of well known artists such as Jason Aldean, Blake Shelton, Luke Bryan, Brantley Gilbert, Keith Urban, Jake Owen, Eric Church and Toby Keith as well as a barrage of classic country and southern rock favorites and new original material. Whether it's an uptempo rockin' tune with that special edge or a smooth ballad, ROUGH SHOT delivers a tantilizing effect on the crowd which caters to a various of musical tastes.
ROUGH SHOT the Classic Rock /Modern Rock and Blues Rock band will keep you Rock-in to hits from Stevie Ray, Bad Co, Queen, REM, Kings of Leon, Greenday and AC/DC among others. YES ROUGH SHOT is a band that can play it all and play it all well. Whats our secret? Jason Van Wie is schooled in Country music And Rock Music. The Band ROUGH SHOT was born.
ROUGH SHOT consists of four talented members, closely knit and well versed in their musical selections. Fronted by Jason Van Wie on guitar, lead vocals. ROUGH SHOT provides a unique magic on stage rarely found in a band of this magnitude. Mike Spencer on Keyboards and Bass Player Paul Kasin rounds out the vocals, harmonies and solid pocket bass foundation. And in 2021, Rough Shot introduced young drummer extraordinaire Max Korokakos!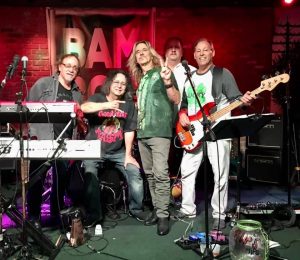 Local Rock band Playing songs from the 70's to today's new Rock.
The Solstice Reign band has been playing in clubs, private party's, weddings and corporate events for over 15 years. Our five piece band plays a wide wide range of rock and country music from the 70s to today's new sounds. Four members of the band can sing lead and backup vocals allowing us to perform music from many of our favorite bands. Our lead vocalist interacted with the audience and gets everyone into the party mode.
South Florida based Party Rock Band
Rocker Locker brings a party atmosphere that gets audiences dancing and singing to their favorite classic rock tunes. With selections from the music ZZ Top, REM, Aerosmith, Tom Petty, Van Halen and many others, the band provides the best in upbeat party and dance music from the 70s and 80s and more.
Rendition is a South Florida based Classic rock band specializing in 60's and early 70's bands.  Rendition is a High energy Group made up of retired touring pros. who currently reside in or near Margate, FL. All band members are accomplished musicians and vocalists and aim to provide a concert quality performance with each gig.
Band members believe it is important to keep this music alive and focus on music that most other bands will not attempt to play as well as some favorites people expect to hear.
Examples of bands covered include Chicago, Kansas, Moody Blues, Eagles, Little River Band, ZZ Top etc.
Songs on Rotation
Born to be Wild
Carry on
Good old Rock and roll
Smoke On the Water
Abracadabra
Runaway
Tuesday Afternoon
Spooky
How Long
Bad Case
Back in the USSR
Running down a dream
Pink Cadillac
Brown eyed girl
Bad time
Rock This town
Venus
She's not there
Mama don't Dance
Saw Her Standing there
Secret Agent Man
Hooked on a feeling
I Love Rock and roll
One of South Florida's favorite Rock n Roll Bands since 2010!
One of South Florida's favorite Rock n Roll Bands since 2010!
Rockin' South Florida for over 15 years!
Wrecktifier has rocked across South Florida for over twenty years, dazzling audiences, and known for their high energy, concert like sound and stage performances. The best compliments that the band does hear is, when they come to see Wrecktifier perform, their show is more like a concert, than just a band playing in a club.
Wrecktifier covers some of the best rock hits from the past decade including:
KRYPTONITE---3 doors down
MY OWN WORST ENEMY---lit
ROOSTER---alice in chains
PARALYZER---finger 11
DRIVE---incubus
PLUSH---stone temple pilots
LIKE A STONE---audio-slave
CRAZY BITCH---buckcherry
HEMORRHAGE---fuel
TOMORROW---silverchair
SHIMMER---fuel
FORGET ABOUT ME---simple minds
CUMBERSOME---7 mary 3
IF YOU ONLY KNEW---shinedown
WASTING MY TIME---default
ROCK-N-ROLL FANTASY---bad company
SANCTUARY---the cult
SEX TYPE THING---stone temple pilots
SHE HATES ME---puddle of mudd
AIN'T TALKIN BOUT LOVE---van halen
INTERSTATE LOVE SONG---stone temple pilots
HARDER TO BREATHE---maroone 5
RAIN---the cult
IF YOU COULD ONLY SEE---tonic
BRAIN STEW---green day
DRIFT AND DIE---puddle of mudd
WOULD---alice in chains
SLITHER ---velvet revolver
IT'S BEEN AWHILE---staind
DENY---default
BAD GIRLFRIEND---theory of a deadman