Not the same old same old stuff - From Classic, Hard Rock to Country and Metal!
Fronted by a female lead singer, we bring it on with a diverse, energetic twist. Covers include: Lita, ZZ Top, Pink, Def Leppard, Stevie, Alice Cooper, Badfinger, Scandal, Gin Blossoms, Miranda, Foo Fighters, Kiss, Velvet Revolver, Lady A, Free, Kings of Leon, Bad Company and Blondie!
How Original brings to life favorite hits from the 90s, 00s and more.  Playing music that they grew up with, the four guys in this band inject a level of passion and fun into each and every song. From Aerosmith to Pearl Jam to Maroon 5 and The Weeknd, How Original is sure to have something for everyone!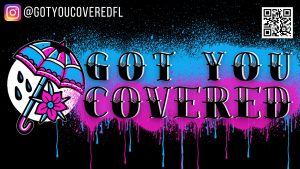 Hailing From South Florida, Got You Covered Is A High Energy Rock Cover Band. Playing Everything From Rush To Maroon 5 To Black Sabbath To Blink 182
Hailing from south Florida, got you covered is a high energy rock cover band. Playing everything from RUSH to Maroon 5 to Black Sabbath to Blink 182, we perform a wide variety of rock music certain to resonate with all age groups. If you're looking to rock out to music from the 1970's to today, we've certainly got you covered.
Sample Set List
1. Highway to Hell - AC/DC
5. Love in an Elevator - Aerosmith
6. Smooth Criminal - Alien Ant Farm
7. Dear Maria, Count Me In- All Time Low
8. Cochise - Audioslave
9. Come Together - The Beatles
10. Lonely is the Night - Billy Squier
11. War Pigs - Black Sabbath
12. All The Small Things - Blink 182
20. Since U Been Gone – A Day To Remember
21. Life in the Fast Lane - Eagles
22. Epic - Faith No More
23. Beat It - Fall out Boy
26. All My Life – Foo Fighters
30. Take Me Out - Franz Ferdinand
31. Lifestyles of the Rich & Famous – Good Charlotte
32. The Anthem – Good Charlotte
33. American Idiot - Green Day
38. Ohio is for Lovers - Hawthorne Heights
39. Crawling in the Dark - Hoobastank
40. Stellar - Incubus
41. Are you gonna be my Girl - Jet
43. Fire - Jimi Hendrix
44. Bleed American - Jimmy Eat World
45. Sweetness - Jimmy Eat World
47. Mr. Brightside - The Killers
49. Sex on Fire – Kings of Leon
50. Good Times, Bad Times - Led Zeppelin
53. Break Stuff - Limp Bizkit
54. My Own Worst Enemy - Lit
55. Harder to Breath - Maroon 5
56. Enter Sandman – Metallica
57. Mississippi Queen – Mountain
58. I'm Not Okay - My Chemical Romance
59. Failure's Not Flattering - New Found Glory
61. In Bloom- Nirvana
62. Smells Like Teen Spirit - Nirvana
63. The Kids Aren't Alright - The Offspring
64. Last Resort - Papa Roach
65. Even Flow - Pearl Jam
66. Fat Bottomed Girls - Queen
67. Bulls on Parade - Rage Against the Machine
68. Suck My Kiss - Red Hot Chili Peppers
69. Tom Sawyer - Rush
70. Can't Be Saved - Senses Fail
71. Cherub Rock - Smashing Pumpkins
72. Until The Day I Die - Story of the Year
73. Fat Lip - Sum 41
75. Makedamnsure – Taking Back Sunday
76. Stranglehold - Ted Nugent
77. My Name Is Jonas - Weezer
79. Ocean Avenue - Yellowcard