Here's a suggested list of local bars and restaurants in and around Fort Lauderdale where you can enjoy live music on most weekends and sometimes during the week too. We divided up Broward County from North to South to make it easier to find places near you.

Cheers
Cheers Restaurant and Bar in Sunrise has live music, sports, karaoke, Beer Pong, Corn-hole, Flip-
Cup, Jumbo-Jenga and Adult Twister, 
trivia, bingo, NFL, football, basketball, baseball, boxing, great food, ITB specials and more fun things to do every night of the week. Fort Lauderdale location is best known for its' late night ITB crowd.

Premier Billiards Sports Club
Located on the corner of Wiles and University, Premier Billiards Sports Club is a Pool Hall, Sports Bar and Live Entertainment Venue all rolled into one. Live Bands and DJ every weekend.  Drink specials every day, 15 Pool Tables, 4 Dart Boards, Large Screen TV's and more!

A full service restaurant and banquet room with breathtaking views of water fountains and sunsets on the Pompano Beach golf course greens. Covered Patio bar is a favorite place to eat and enjoy fresh air and live music on weekends.

Brendan's Sports Pub
Friendly, local neighborhood pub, with pool tables, dart boards, weekly karaoke and live music in a non-smoking bar with late-nite kitchen too.  Brendan's is located along Federal Highway midway between Atlantic Blvd and McNab Rd.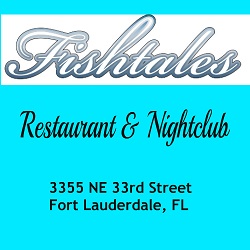 Fishtales Restaurant & Nightclub

A restaurant, bar and nightclub all rolled into one! Located just north of Oakland Park Blvd off A1A, Fishtales serves a complete menu of seafood and grilled specialties for lunch or dinner. A local favorite in North Beach Fort Lauderdale, "Fishtales on 33rd" offers a full liquor bar with live entertainment every night of the week.

Tailgators Sports Bar & Grille
Why go anywhere else when you've got a friendly neighborhood bar and grill with great food, service, live music, karaoke, full liquor bar, serving breakfast, lunch, and dinner 7 days a week with a super large screen and stage plus large screens on every wall to catch your favorite sports, a pool table and more!

Marina 84
Marina 84 is a sports bar and restaurant that offers nightly entertainment too.  Watch NFL, NHL, NBA, MLB, Soccer & Rugby on 40 large screen TV's indoor and outside on the huge patio with weekday. Karaoke Wednesdays and live bands on weekends.  Located only a few minutes from the Fort Lauderdale airport.
North Broward 
Deerfield Beach
JB's on the Beach (restaurant on the beach)
Kahuna Bar & Grill (dive bar with small stage across the street from the beach)
Oceans 234 (restaurant on the beach)
Tailgators Sports Bar & Grille (new! Large Stage & Giant LCD screen, Breakfast, Lunch, Dinner and late nite service, Non-Smoking)
Lighthouse Point
Packy's Sports Pub * ( Sports Bar & Irish themed menu non-smoking restaurant-bar)
Coconut Creek
Nectar Lounge at Seminole Coconut Creek Casino
NYY Legends Lounge (Casino)
Sunset Grill (outdoor cafe at Casino)
World of Beer (at the Promenade)
Margate
O'Malley's Sports Bar (mostly original bands)
Coral Springs

JD's Lounge (Local Neighborhood Bar)
Lefty's Tavern & Grille (Sports Bar)
Premier Billiards & Sports Club * (large stage and pool hall with 15 tables)
Tavolino Della Nonna (Upscale Italian Restaurant with Jazz Lounge)
Pompano Beach
26 Degrees Brewing Co. (Craft brewery)
Brendan's Sports Pub * (non smoking, pool & dart leagues)

BrewFish Bar & Grill
Briny Irish Pub (Irish pub by the beach)
Galuppi's * (Banquet hall and outdoor covered patio-bar with large stage overlooking Golf Course)
RIPs Sports Bar (Inside Diamond Strikes Bowling Alley)
Central and West Broward
Fort Lauderdale (North Beach/East-Side)
33rd Street Wine Bar
Blue Jean Blues (Jazz & Blues 7 days a week)
Fishtales Restaurant & Nightclub * (on 33rd street, seafood specialty & bar, Live music 7 days a week)
Gatsby's Joint (Piano Bar, Burlesque, Intimate Dinner Shows)
Kelly Brothers Irish Pub (Lots of Blues)
Murphy's Tavern
Park & Ocean (inside Hugh Taylor Birch State Park)
Shooters Waterfront* (dock your boat or watch them float by on intracoastal)
Fort Lauderdale (South Beach)
The Elbo Room (bar on the corner of A1A and Las Olas)
Lulu's Bait Shack (restaurant/bar)
Fort Lauderdale (Downtown)
Backyard (formerly America's Backyard)
Original Fat Cats (bar with late-nite entertainment)
The Poor House  (next door to America's Backyard)
Bar Stache 1920's Drinking Den (speakeasy located behind Revolution Live)
Tarpon River Brewing (Craft Beer and Pub Food)
Fort Lauderdale (West of the Beach)
Cheers Fort Lauderdale  *(open till 4am)
Xtreme Action Park (Go Kart Racing, Ropes Course, Escape Room, etc…)

Tamarac/Lauderhill
Jo Baby (Formerly Rosy Baby, Closed, Now Shipwrecked Bar And Grill )
South Broward 
Dania Beach (near Fort Lauderdale International Airport)
Dania Beach Bar & Grill (closed)
The Casino at Dania Beach
The Field (Authentic Irish Restaurant-Pub)
Flossie's Bar & Grill  (biker friendly with outdoor tiki bar)
Marina-84 Sports Bar & Grill * (Large screens indoors and outdoor patio)
Paolo's of Dania Beach (aka Paolo's 3's Company, Italian Restaurant with dinner shows)

Davie
Big Dawgs II and Big Dawgs III
Cagney's Saloon * (biker friendly, live music almost every day)
CJ Blacks (Family owned Restaurant & Sports Bar)
Hollywood
5 o'Clock Somewhere Bar & Grill (across from Margaritaville Resort)
Bogart's American Kitchen (in Cooper City)
Hard Rock Cafe (Restaurant inside Seminole Hard Rock Casino near hotel lobby)
Jimmy Buffett's Margaritaville Restaurant  (inside Margaritaville Resort)
Mickey Byrnes (Irish Pub, downtown Hollywood)
Seminole Hard Rock Casino (many venues closed due to construction of new hotel)
Shenanigans (sports-bar & restaurant, near TY-Park)


Hallandale
The Big Easy Casino (formerly Mardi Gras Casino)
King of Sports Theater at Gulfstream Park

Venues listed in BOLD are also proud sponsors of this website
Don't forget to also check out:
Did we miss your favorite hot spot for Live music?  Tell us now!