For this week's blog, I asked Stephen Kamin, my friend and owner of Feedback Sound Company to help me write about the importance of stage lighting for local bands and local venues that feature live music.  Trying to take band pics using flash photography has always washed out the colors of the stage and not using a flash in the dark pushes my camera's ISO to the limit which results in dark grainy shots.  Ironically, it's the number of dark pictures that I had to throw out when I had a pocket camera that made me go out and buy my first Cannon Rebel 3 years ago.  Throwing out too many dark pics is a frustrating experience and so is walking into a venue where the band is playing in the darkness of an unlit stage.  Here, then, is Stephen's point of view on the subject:
I have been around a stage one way or another since I was 18. Albeit most of my hours were spent back stage dragging cord, pushing cases, climbing trusses, or manning a spot light in the balcony. I have never been "on tour" with anybody, but I have seen a lot different stage sets, sound checks, tear downs and last minute scrambles for supplies that would make MacGyver shiver in his sneakers. So when Rob (Weekend Concierge) asked me to write something about the importance of stage lighting for his blog I was happy to do so.  Stage lighting can make or break a performance just as easily as the failure of the lead singer's wireless battery. Everyone has attended a pro-circuit concert and went home and awed about the lights or the production in some way. It's the job of the venue owners and the performers to provide the best show possible to the families, the fans and the regulars that make up the listening audience at every show. It is also the responsibility of the band to do a little homework including the simple question of asking the  booking agent if lights are provided. If you don't get a solid answer, make it your mission to visit the venue weeks before your gig and scope the space out. If there are lights DO NOT assume they are the venues or that they even work. I have been to a club that had six thousand dollars worth of gobo's hanging from fifteen hundred dollars worth of trusses that did nothing. You do not want to be the band that played that nobody can see.
There are 5 rules to lighting your stage.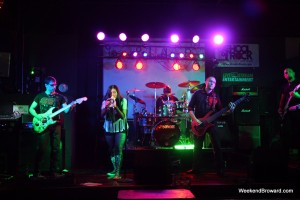 1. Sit down and figure out your lighting budget. Then spend 90% of that on the initial purchase – there is ALWAYS something else you need to finish the job.  There are a lot good fixtures out there that don't cost an arm and a leg. Lucky for us that two of the largest lighting suppliers are located right here in South Florida. Also, do not forget to budget for an electrician. Some fixtures take more power than a small welder while the new LED fixtures can run 35 on one circuit and draw less power than your home refrigerator.
2. (a) If you're going to do the job yourself, DO YOUR HOMEWORK. Do not be afraid to ask questions. I have consulted on a lot of  'do-it-yourself' lighting jobs. (b) If you hire someone to do the job, make sure they did their homework.  Make sure they know what you need. If they are not taking measurement of your space, you are probably not getting the right lights.  There are algorithms out there that take distance and beam angle to predict the size of the beam circle and optimal wattage of a fixture based on ambient light.
3. Make sure you get the right light for YOUR space. There's this club on the beach that I worked at that spent way too much money on the totally wrong kind of light. Your light should light the space and the performers without the need for the band to wear tanning goggles. (Ray-bans are acceptable only if it's the drummer)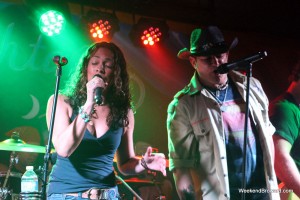 4. Buy a controller. If your budget does not include a DMX controller….well you're just buying a glorified, overpriced Christmas tree decoration. Yes, it's cool to set the lights on auto, or sound activated and let them change unattended while the DJ's playing, but every good controller has a button that will do exactly that! So let's talk about what the lack of a controller will NOT let you do:
(a) It will not light up the stage solid white for the New Year's Eve toast or the announcement that it's the owner's birthday. (b) It will not let you do a cool slow fade from blue to purple to red during a Pink Floyd or a Dave Matthews song. (c) It will not allow you to do a full blackout at the end of Highway to Hell, or flash solid white to Van Halen's Jump! (d) It will not light up the guitarist for his 4 1/2 minute tribute to Stevie Ray Vaughn. (e) they will not light the stage solid for Jam night. (strobe lights and acoustic guitars do not mix)
But hey… they flash really cool…all by them-selves….
5. Safety. Safety. Safety. Hanging 45 pounds of fixtures from the drop ceiling is NOT acceptable! EVERYTHING should hang from a proper point and EVERYTHING should have TWO points of attachment, specifically a safety wire on every fixture. Let's face it – you're not going to climb up there every week and check on these things so they need to be mounted in such a way that they are considered to be as permanent as the light above the pool table.
So to address Rob's original request… "How important are lights to the live band experience?" – It's easy; if your patrons know that the venue has gone the extra step and forked out a couple of hundred dollars so they can see EVERY band in your place, they will be back for more. However, if the band foots the bill for the visuals, well "your" patrons may just follow the band to their next venue.
Thank you Stephen for enlightening all of us on your insight on the subject!  If anyone would like to get in touch with you, I have included a link to your web-site, Feedback Sound Company.