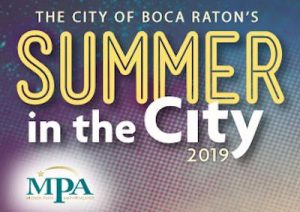 The City of Boca Raton, once again, presents Summer in the City at The Mizner Park Amphitheater with a series of both free and ticketed concerts all summer long beginning Friday, June 7th and running through Friday, August 9, 2019. The public is invited to bring their own blankets and chairs and pick a spot in front of the spacious stage located at Mizner Park in Boca Raton for FREE tribute concerts, mixed with fun and games during free concert events. Gates open one hour before each concert.  Folding chairs may be rented for $5.  Food & Beverages will be available for sale. Take note that outside food and beverages and pets are not permitted. All bags will be inspected at the entrance.
FREE SUMMER CONCERTS
Friday, June 7 – Battle of the Bands | Summer Series Kick Off (7pm)
Friday, June 14 – Jimmy Buffet tribute by Caribbean Chillers (7:30pm)
Sunday, June 23 – The FAU Concert Band (7pm)
Friday, July 19 – 50th Woodstock Anniversary With Peace Of Woodstock (7:30pm)
Friday, August 2 – Symphonia Boca Raton (7:30pm)
Friday, August 9 – Tribute to Chicago by Chicago Rewired (7:30pm)
Parking and more information
Attendees are encouraged to walk, bike, car pool and use free parking at City Hall and the Boca Raton Library. Food and beverages will be available to purchase inside the venue. No outside alcoholic beverages are allowed. All shows are rain or shine.
For more information visit www.mizneramphitheater.com or www.myboca.us/826/Mizner-Park-Amphitheater
For recorded information call (561) 544-8600.
You might also be interested in:
May 27 – Free Memorial Day Concert featuring the New Gardens Band. (7pm-9pm)
More live music from Boca Raton to West Palm Beach can be found on our hour by hour calendar.